"Something of a rarity in academic publishing, this book leaves us with a queer, radical optimism, a present full of possibility" – Lazlo Pearlman, Contemporary Theatre Review
"Rising to the promise that the title holds out, this excellent book will be of value to all scholars with an interest in contemporary performance practices" – Alison Jeffers, New Theatre Quarterly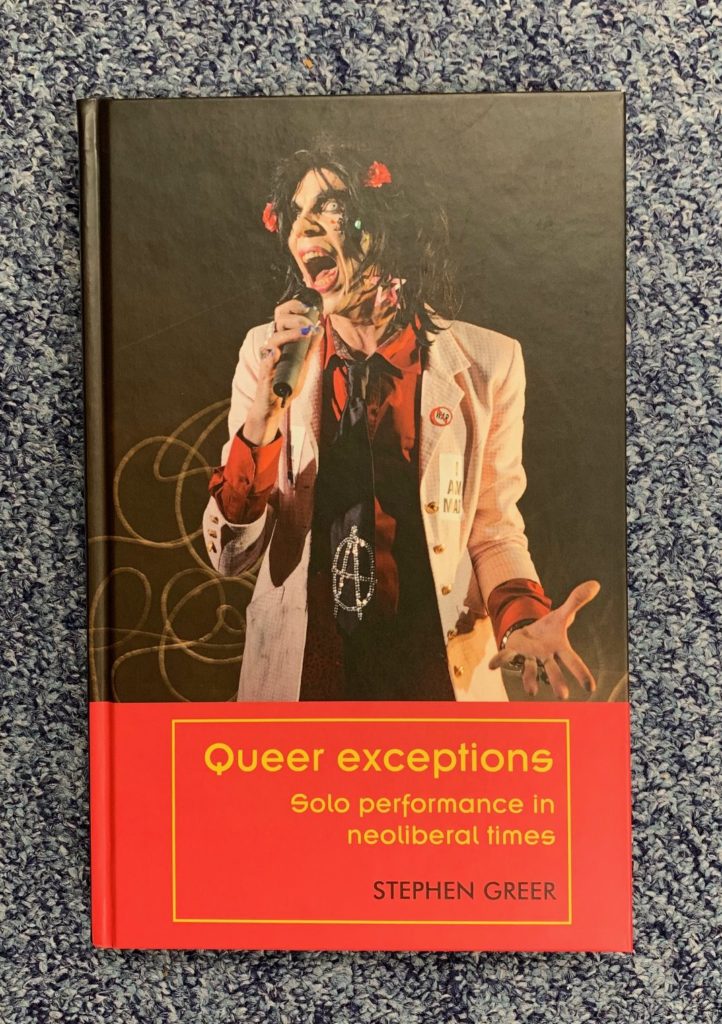 Queer exceptions: solo performance in neoliberal times is a groundbreaking study of the contentious relationships between performance, individuality and the demands of neoliberalism.
Featuring practitioners as varied as La Ribot, David Hoyle, Neil Bartlett, Bridget Christie, Oreet Ashery and Tanja Ostojic, it provides an essential account of the diverse practices which characterise the field of contemporary solo performance, and their significance to debates concerning equality, inclusion and social progress.
What's in the book?
Drawing together works from the overlapping fields of theatre, performance, cabaret, live art and stand- up comedy, this book traces the cultural significance of 'threshold' subjects who occupy a suspended relation to the social and political sphere. Each chapter is structured by a different figure – the entrepreneur, martyr, the pariah, the misfit, the stranger, the killjoy and the optimist – which offers a different way of thinking about who is included, and on what terms.
Informed by the work of scholars including Sara Ahmed, Zygmunt Bauman and Giorgio Agamben, this interdisciplinary text offers an incisive analysis of the cultural significance of solo performance for students and scholars across the fields of theatre and performance studies, sociology, gender studies and political philosophy.
Now in paperback, RRP £20.
Introduction
This opening chapter locates solo performance in relation to contemporary debates concerning individuality, neoliberalism and the politics of exceptionality. How do we make sense of the demand for autobiographical solutions to social crises? What does it mean for an individual to be considered 'exceptional'?  What is neoliberalism, anyway?
Excerpt:
In the opening moments of Our Carnal Hearts (2016) – a show about envy, competition and 'the ugly bits of ourselves we would never usually admit' – theatre-maker Rachel Mars offers up a ritual invocation to 'millionaires and billionaires and executives and Wall Street' before leading the audience in collective rendition of Spandau Ballet's pop hit Gold (1983). […] With the audience positioned to confront itself across the four sides of the stage, Our Carnal Hearts invites recognition of envy as a communal affect which turns us against our neighbour. 
In one narrative thread, Mars tells the parable of a fairy who knocks on your door and offers to grant any wish with the catch that "Your best friend, your colleague, your associate, your team mate, your rival, that person you know who is like you, but better, they get double of what you wish for. And you say [pause] cut out one of my eyes" (Mars 2016).
The Entrepreneur
The Martyr
The Pariah
The Killjoy
The Stranger
The Misfit
The Optimist
Conclusions
Errata