Stonewall's latest anti-bullying campaign is refreshingly direct in its challenge to casual homophobia: there is no apology in the demand to address language and behaviour which contributes to high levels of self-harm and attempted suicide amongst lesbian, gay and bisexual young people.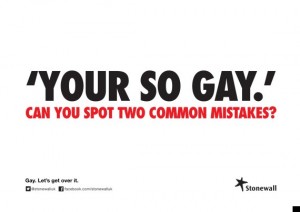 But the rhetorical scenes imagined by Stonewall's posters also seem – inadvertently – to limit the opportunities for queer youth to respond affirmatively to the identificaton of their sexuality. What happens, in other words, when the lazily pejorative 'you're so gay' is addressed to someone who is gay? When there aren't 'two mistakes' at all, and the answer to 'you're so gay' might be 'yes, yes I am'? And how does the commonsensical appeal to 'get the meaning straight' service those whose identity can't be tidily resolved under a single, stable category?
Stonewall's response to 'that's so gay?' with 'let's be honest – it's probably not' is helpful insofar as it addresses how most incidences of such speech are intended to be merely derogatory. But speech isn't tidy, and the two outcomes – an casual insult and a specific identification – overlap, and a simple denial ('that's not so gay at all') does little to untangle those meanings. Let's face it: 'you're so gay' is being used as insult because it does a lot of work at once, marking someone out as both different from and less than an assumed norm.
There seem to remain painfully few strategies for supporting non-gender-normative youth, and those whose sexual identity expresses itself outside of very narrow norms for gender.1 Bluntly, I worry that we continue to fail in support of butch girls and sissy boys, haunted by the spectre of the 'promotion' of homosexuality – the lie at the heart of Section 28. That we might unashamedly and confidently offer advice for how to bring your kids up gay without a moment of hesitation, advice for how to raise young people not merely as gay but so gay, still seems impossible.
Why?
And let's not pretend the policing of gender norms isn't fairly brutal for many (if not most) young people. [↩]